Another method to cook Saba, the very nutritious fish.
Fairprice was having a promotion, 8 pieces of frozen saba for just $7+!
That's such a good bargain!
I must admit that it's not as good as those bought in Sakuraya Fish Market,
but still decent enough to be eaten =)
This recipe is super easy...
Just put all ingredients + pan fried saba into the rice cooker and press the start button!
after 15 minutes...it's all done!
No hassle, No oily kitchen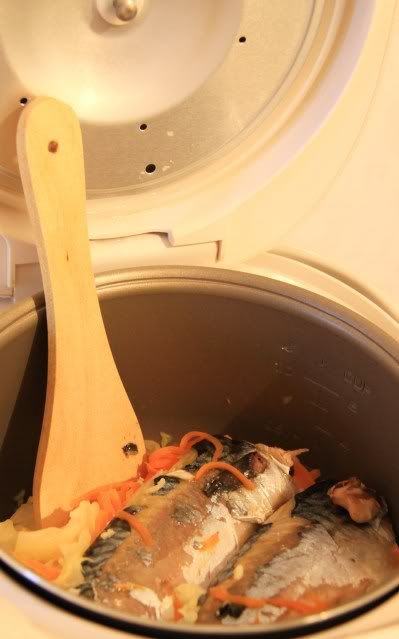 You can smell the fragrance during the cooking process~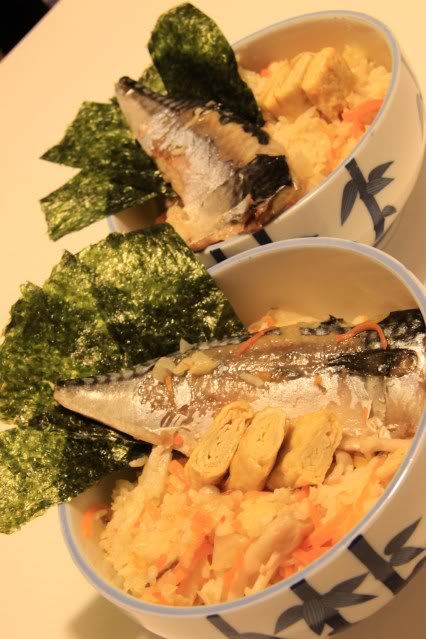 Enjoy the nutritious meal for 2!
I made the Tamago to add a side dish to the rice.
Wanna try making this?
The Nutritious Saba Rice (serves 2)
1/4 Cabbage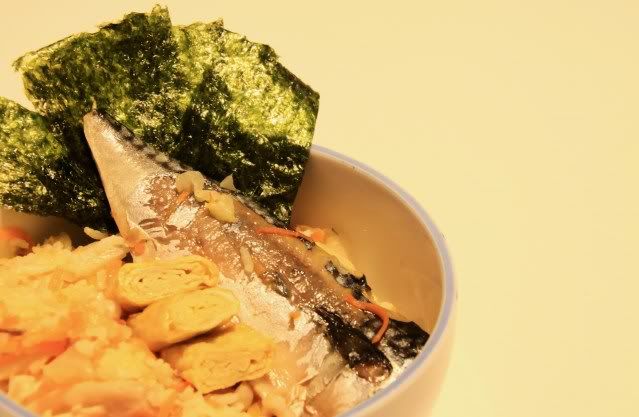 1/2 Packet of Shimeji Mushrooms
1 Small Shredded Carrot
2 Pieces of Saba (Pan fried for 1 min. on each side)
3/4 Cup of Short Grain Rice
1 1/4 cup of water
1 Tbsp Soy Sauce
1 Tbsp Sesame Oil
Pepper
1. Mix rice grain, water & all seasoning together in the rice cooker.
2. Lay Shimeji mushrooms, cabbage and shredded carrot on top of the grain.
3. Lastly, place pan fried Saba on top of all ingredients & press the start button!
4. When it's cooked, take Saba out carefully and stir the rice.
5. Serve rice in a bowl and top with Saba and any other side dishes.