I always have my lunch alone.
Most of the time at home,
because some days I will only leave home to teach in the afternoon.
So I can decide what to cook.
Sometimes I will just cook instant noodles and add some ingredients to it but I try to limit it,
the most once or twice a week.
Normally there will be no meat in my lunch,
only tofu, mushrooms and vegetables.
This is my version of healthy Stir Fried Vegetarian Bee Hoon..
Without any oil...
You must be wondering how to stir fry things without oil...
My way is to use water instead of oil...!
I often use this method to stir fry my vegetables..
& nobody knows it unless I tell.
i know they will go like..YUCKS if i were to let them know...
So here's the bee hoon without oil!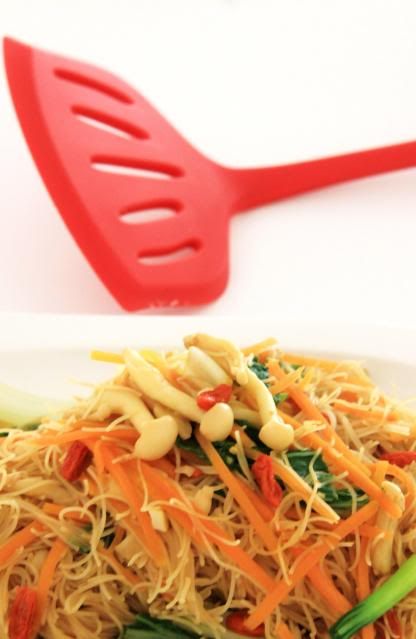 It looks the same as those stir fried with oil ones right?
I feel that it's flavour is really good enough!
If you are going on a diet, try this! It's low in calorie..and filling!
Stir Fried Vegetarian Bee Hoon Without Oil (Serves 1)
A bunch of brown rice bee hoon (soaked)
A bunch of vegetables
1/4 packet of Shimeji Mushrooms
1 small shredded carrot
A handful of wolfberries (washed & soaked in warm water for 1 minute)
1 Tbsp Minced Garlic
Approx. 1 cup water
1 tsp soy sauce + 1 tsp dark soy sauce + pepper
1. Use 2 Tbsp of water from 1cup of water and bring to boil in wok, add in garlic, keep mixing it until fragrant.
2. Add Shimeji Mushrooms and stir fry for 1/2 minute.
3. Mix seasoning into the 1 cup of water and pour into the wok.
4. Put Bee Hoon in the wok, and keep stirring until the water nearly dry up.
5. Add vegetables and carrot. Cook for 1 minute.
6. Lastly, mix wolfberries+ water into bee hoon and cook until the water nearly dry up once again. If you find it too dry, just add more water before serving.
7. Serve hot.